Most investors do well in the good times. However, when times are tough, that's when expertise in financial markets is vital.  We have seen many market dislocations in our 20 years of operation and, true to our mission of protecting and preserving wealth, we have achieved real dollar value growth for our clients.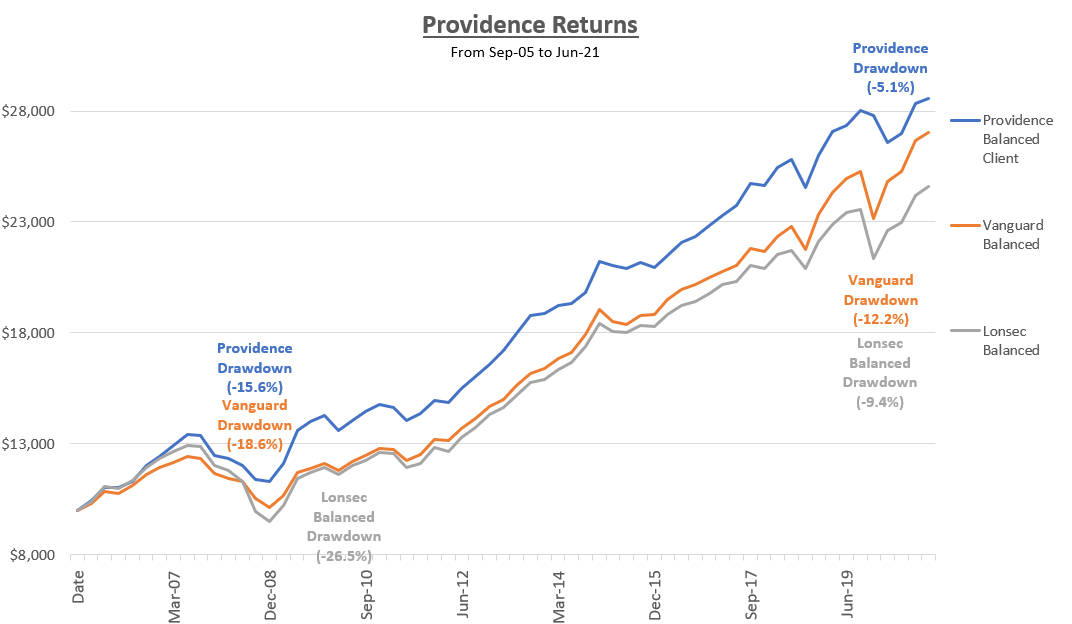 Historical returns are not indicative of future performance.
Providence Client is a full discretion Balanced client with no legacy assets. Returns are net of fees.
Vanguard Balanced Index Fund (Wholesale) net of management fees.
Lonsec Balanced Model Portfolio with Alternatives. Returns are net of fees.
In 2019, an independent Insights Consultant conducted one-on-one interviews with 30% of our clients, with the following results:
 100% of respondents are very likely or likely to recommend Providence to others
100% of clients strongly agree that Providence is trustworthy and credible
94% of clients rated Providence's portfolio performance as having exceeded or met expectations.
With each day spent in the pursuit of investment performance, we love to hear endearing words of praise from our clients. It makes the pursuit even more worthwhile. Below, we share an excerpt of these words, with full testimonials available upon request.
They have been first-rate all the time, always responsive, and continued to deliver over many years. I cannot say anything better about Providence. They are excellent. [1]
If I think about why I like Providence, it is because I trust that they have an ethical perspective and that they will act in your best interests. I trust in the judgements that they make about investments. [1]
I have recommended Providence because they are dependable, approachable and understand our posture – which is not about chasing the last dollar, rather about capital preservation with a reasonable level of income. [1]
They appear to have the ability to consistently exceed targeted returns. [1]
Met expectations on percentage of returns, yet, on strategic goals probably exceeded them. [1]
I genuinely believe they have my best interests at heart. [1]
I find myself fortunate that I put my faith and my pension in Providence's capable hands. In my discussions with colleagues it was evident that their experience with their pension investments was not as successful as mine. I would like to sincerely thank Providence directors and staff for their valued contribution to my financial well-being allowing the benefits of extended travel overseas and long lunches with friends. [2]
Providence's services go beyond obtaining good returns on funds and easy access to funds accounting. Their scale, dedicated expertise and client-focused assessments provides analysis of, and access to, opportunities that are more difficult to obtain. These can contribute to both portfolio diversification and capturing uncorrelated performance assets that add to portfolio valuation stability. In other words Providence's services helps our peace of mind during these unprecedented financial times. [2]
An impartial and independent view is offered of investment strategies and opportunities with no bias toward any particular product, or supplier of product. [2]
A thorough and considered view of the financial markets and the risks, and opportunities therein is provided. [2]
A pro-active approach is adopted by the team at Providence who meticulously follow-up on agreed actions to ensure strategies are executed correctly. [2]
Having found myself in the position of having responsibility for the family's investment interests, with no prior investment experience, I felt that I needed advice, and support. We have been very happy with the service provided by Providence, and the individual advisers we have had contact with. [2]
Verbal comments provided by clients in 2019 interviews with independent Insights Consultant.
Testimonials provided by clients, on file.